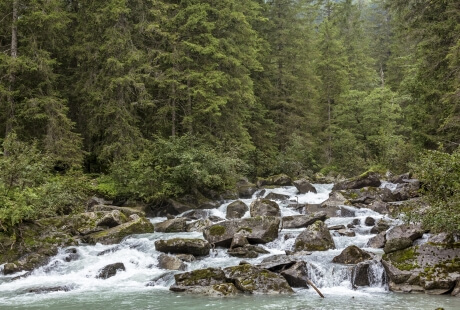 The Autonomous Province of Trento coincides with the historical and geographical region of Trentino: once being Lombard duchy, then semi-independent state in the times of the Prince Bishop of Trento by the Holy Roman Empire of Germany (XI – XIX centuries) and then for about a century (1818 - 1918) it was the Italian speaking southern part of Tyrol Austro-Hungarian Empire.

Val Rendena ( stands for "Rendena Valley" in English) is one of the most important tourit center in Trentino, with dominated tourist resorts in Madonna di Campiglio.
Moreover, it is the unique valley in the world where there are major mountain ranges of origin, from the geological point of view, completely different.

In fact, in the western part of Val Rendena the landscape is dominated by big mountain groups, such as the Adamello Group, with its namesake glacier, and that of Presanella, both consisting of tonalitic diorite (granite).
While, in the left side the landscape is dominated by the mountain range of Brenta Dolomites, consisting of dolomite, i. e. double calcium carbonate and magnesium.
In Trentino there exists huge diversity among flora and fauna populations: Trentino offers so extremely varied landscape that exactly for this reason and for its natural beauty, much of Trentino has become a part of the World heritage.

The main tourist centers are of mountainous character with innate vocation for both summer and winter seasons. Madonna di Campiglio, dominating the valley like the prow of a ship, is the tourist center, where the most important summer and winter tourist resorts are present: unique in the world, surrounded both by the Dolomites of Brenta, its eternal snow and the granites of Adamello and Presanella.

More at Visit Trentino website